Ypsilanti is known for its juxtaposition between the old and the new. Students from Eastern Michigan University ignite excitement in the community, while historical architecture and museums line the streets. While Ypsilanti is making a name for itself as a home for young entrepreneurs and artists, there is still so much history to explore.
In Ypsilanti, there is no shortage of antique and vintage shops. And every one is unique. Some specialize in salvaged materials, while others focus specifically on clothing, or furniture. You can find everything from historic doors, windows, and tubs, to coasters, hats, and thingamajigs.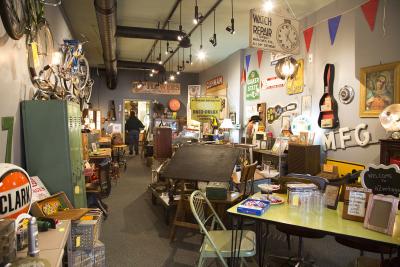 A2 Vintage is the newest antique shop in Ypsilanti, and features uniquely repurposed materials. You may not look twice at an antique vacuum cleaner in a regular antique shop, but A2 Vintage takes seemingly inoperative materials and gives them a new life by turning them into a lamp, or a wall fixture! Owned by the happily married couple, Anne and Kelly Callison, these two women are living their dream. "It's been a dream of mine to have a shop, and come to work everyday to a place that I love," said Kelly. The couple describes their shop as an eclectic mix of the old and new. With a store as unique as A2 Vintage, you just have to see it for yourself!
2. 
Artifact & Whimsy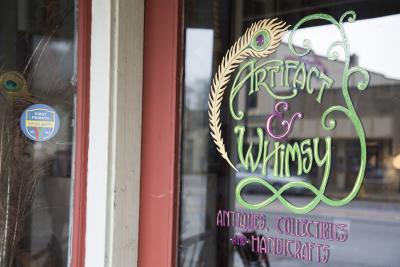 Artifact & Whimsy is located in Depot Town near Jim MacDonald's Antiques and Apple Annie's Vintage. This quirky antique shop specializes in antique furniture, handmade crafts, vintage decor, and more. You can find vintage postcards, baskets, art, and hats throughout the store.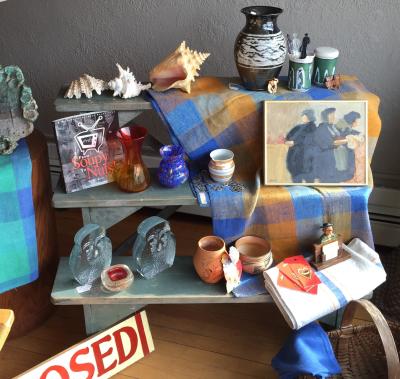 It doesn't get more unique than Bowerbird Mongo. Joyce Ramsey and Ward Freeman bought the building in 2002, and have been living above their unique store in Downtown Ypsilanti since 2005! "Probably the thing that makes us unique is our narrow window of open hours," said Joyce. "We decided to open only on the first Friday and first Saturday of every month from 5pm-8pm." This is a passion project for this Ypsilanti couple, which is why you'll find the most unique objects (such as art, pottery, and objects of interest) for an unbelievable price!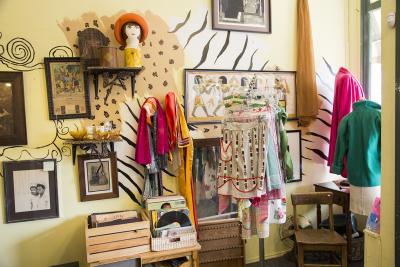 Owners Lynn Radtke and Jim MacDonald have been in business in Depot Town since 1978. Jim MacDonald's Antiques and Apple Annie's Vintage has a unique blend of art, quilts, kick knacks, and vintage clothing. Conveniently located in a bustling area, this business offers visitors a chance to travel back in time by exploring antique jewelry, accessories, and hats. When we asked Lynn Radtke about her favorite part of owning an antique store she responded, "There's always something to learn. You think you've seen it all, but there is always something 'new'."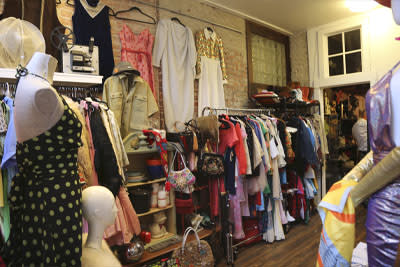 Located next to the Riverside Arts Center, this hidden gem is a must-stop for cool vintage clothing and accessories. Owner, Amanda Gaytan, makes a point to carry clothing items for all body types. In addition to clothing, Ypsilantique carries a great selections of hand bags, jewelry, neckties, funky trinkets and more. Stop by to peruse the unique items and pet the shop cat "Ramoana."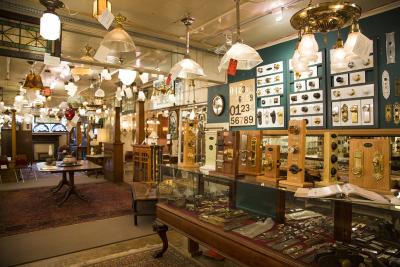 Perhaps one of the most well-known antique and salvaged good stores in the region, Materials Unlimited is a sight to be seen as hundreds of antique lights radiate on the first floor among the breathtaking historic furniture. Materials Unlimited evolved from a demolition company, and has been in business since 1974. (You can learn more about their amazing history by clicking here.) With three floors of architectural salvage, bath fixtures, fireplace mantels, and stained glass windows – Materials Unlimited is a must-see in Ypsilanti!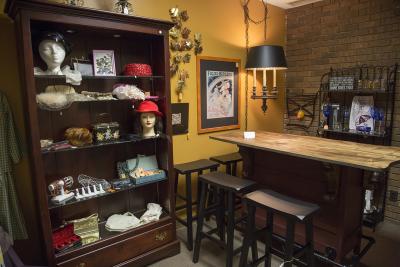 Salt City Antiques is known for their passion for vintage furniture. It feels as though you're traveling back in time to the days of black-and-white televisions and sock-hops as you take a seat on an antique couch or dining room table. The prices are reasonable, and the furniture is in expert condition. This Ypsilanti staple also features vintage clothing, salt-and-pepper shakers, kitchenware, decorations, and more. This is the perfect place to stop in for a unique gift, or a stash of vintage matchbooks!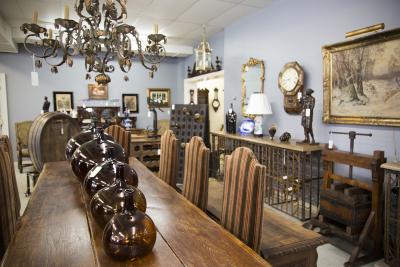 Located further west down Michigan Ave than most of the city's antique shops, Schmidt's Antiques has been a family owned-business since 1911. With breathtaking furniture and artifacts from all over the world, Schmidt's Antiques has made a name for itself by delivering high quality products, with high quality service. The owner, Chuck Schmidt, is probably one of the nicest people you will ever meet – and helps to foster other antique-related businesses with the vast amount of space owned by Schmidt's Antiques – such as Muse Altier, Industry New, and Cyprus Oriental Rugs. When you visit Schmidt's Antiques – you can visit three other stores on the same property! Schmidt's is also known for their famous auctions held on the 4th Friday of every month.
Is your heart overwhelmed with all the love for antiques in Ypsilanti? Get out there and explore! Share your shopping adventures on Instagram and use the #ypsireal hashtag.
Enjoy our content? Sign up for Ypsi Real's monthly newsletter to have it delivered straight to your inbox!