Now in its 57th year, the Ann Arbor Film Festival (AAFF) is the longest running avant-garde and experimental film festival in North America. This year's festival takes place March 26-31. There is something for everybody in this jam-packed schedule of film screenings, lectures, panel discussions, filmmaker retrospectives and after-parties.
The festival remains true to its original mission of promoting film as an art form, to supporting bold, visionary filmmakers, promote the art of film & new media, and providing the community with remarkable cinematic experiences.
In addition to the films, Off the Screen! offers an extended festival experience. Off the Screen! is a series of Ann Arbor Film Festival art and media installations and events—most of which are free—held at several venues around Ann Arbor. The events were selected as a way to enhance the community's understanding of, appreciation for, and conversations around film art. Everyone is invited to attend Off the Screen!
Here are a few of the Off the Screen! art installations happening during the 57th Ann Arbor Film Festival:
---
Ann Arbor Art Center - 117 West Liberty Street - Free and open to public
As if the color was looking at you
Sara Bonaventura
This video installation presents a triplicated body entangled in a network of exterior conditionings. The viewer encounters a mesmerizing triptych of choreography performed by Annamaria Ajmone and processed using analog synthesizers. Voltage-controlled oscillators and patches give way to an endless dance of colors.
Sara Bonaventura is an Italian visual artist currently based in Singapore. Her works have been screened in Italy and abroad, including at the Anthology Film Archives in New York. She has been selected for residencies at Signal Culture in Owego, New York; Frans Masereel Centrum in Belgium; and the Fundación Botín in Spain.

Chorus for Untrained Operator
Stephan Moore and Peter Bussigel
The public is invited to interact with this installation, providing a direct encounter with a collection of discarded objects. Each has been relieved of its original responsibilities, rewired, and transformed to emphasize its musical voice. The ensemble is controlled through the patchbay of a 1940s Western Electric switchboard.
Peter Bussigel builds sound systems that become instruments, performances, sculptures, and less general interanimata. Peter also makes music with brass instruments and electrons and teaches new media and sound arts in Vancouver. Stephan Moore makes objects, software, and scores that organize sound in space and time, manifesting as installation art and sound designs for performance. He is active as a curator, teacher, and performer in Chicago.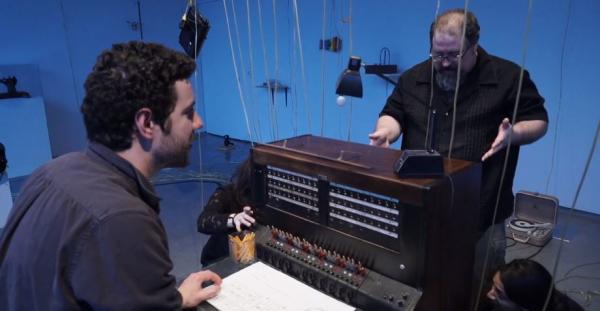 ---
North Quad Space 2435 - 105 South State Street - Free and open to public
XYZ
Eric Souther
XYZ is an audiovisual installation that focuses on the exploration of sonic material for real-time sculpture. The work utilizes three analog oscillators in tandem to generate the x, y, and z dimensions of the sculpture. A series of knobs and sliders allow viewers to explore the creation of their own sonic sculptures.
Eric Souther is a video and new media artist who draws from a multiplicity of disciplines, including anthropology, linguistics, religion, and critical theory. He is an associate professor of new media at Indiana University.

---
Stamps Gallery - 201 South Division Street
YYYAAAOOO
Hamutal Attar
What happens when your familiar inner world becomes alien, and the language mechanisms collapse? This video installation focuses on a conflict between a woman and herself through video, drawing, and animation. The woman reads the signs inside her body and vocalizes them with primal voices while trying to memorize this new and unfamiliar language. The signs moves and twist, and her inner world gets wild and defies her. The collision between the video and the animation produces an uncomfortable intermediate state, a moving collage of paper and video.
Born in Israel in 1992, Hamutal Attar is a multidisciplinary artist who lives and works in Tel Aviv. Hamutal's videos and animations have appeared in exhibitions and festivals around Israel.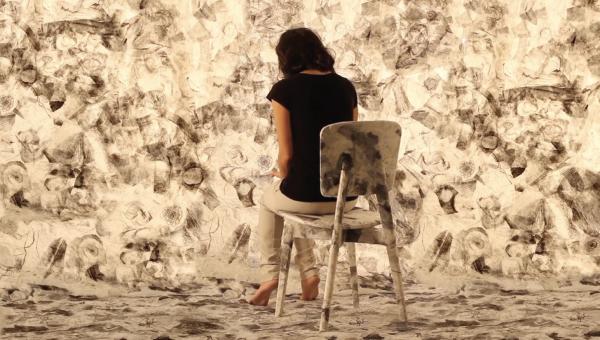 ---
Michigan Theater - 603 East Liberty Street
Before her investiture, the novice must hear what she has to, learn what she has to, shape what she has to, say.
Katharine Fry
Lobby Phone Booth
In this video installation for one, you enter an intimate red velvet world and encounter a novice in a strange educational setting. Her truncated torso and limbs thrust awkwardly from a school desk. The scene is tense stillness except for her spinning, shaking, magnified mouth. The novice must rehearse the lesson dictated by an unseen voice, but her body refuses. A pair of red shoes lies in wait on the feet of long legs that support her desk.
Katharine Fry creates enchanted spaces of desire and inertia. Katharine has received a Hauser & Wirth First Prize, Soho House Mentoring Prize, and prizes from the Creekside Open and Black Swan Arts Open. Her work was recently exhibited at Visions in the Nunnery in London and the Alchemy Film and Moving Image Festival in Hawick, Scotland.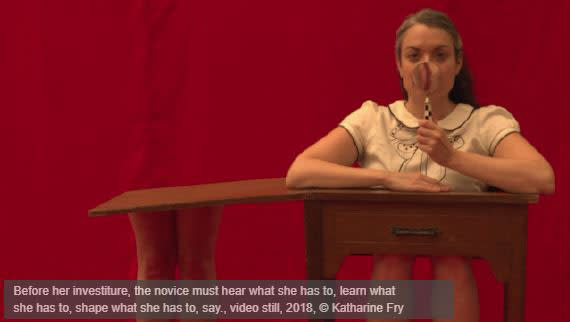 ---
Off the Screen! events and installations will take place at the following Ann Arbor locations—
Like our content? Get all the latest Ann Arbor info and events delivered right to your inbox. Subscribe to our monthly email newsletter.