Para-Con - December 8
Halloween may be over, but don't hang up the fangs just yet. Did you know that one of Michigan's most haunted locations is in our very own Ypsilanti? Head to Ypsilanti's Michigan Firehouse Museum & Education Center for Para-Con, and experience the Old Firehouse in all of its haunted, ghoulish glory. This ticket-only event, which takes place December 8 from 6 p.m. to midnight, celebrates the supernatural, the paranormal, and the unexplained. The convention will feature vendors from all over the Great Lakes region. Para-Con also features presentations by psychic medium Stephanie Burke, Scott Porter: Tennessee Wraith Chaser from the Travel Channel's Haunted Live, and Destination America's Ghost Asylum and Haunted Towns, as well as John E.L. Tenney, one of the most well-recognized and highly sought-after investigators of UFO, Paranormal and Occult phenomena in America. For the price of a VIP Ticket (limit 50), you can even join in on a midnight ghost hunt, and seek the spirits for yourself. Perhaps you will encounter the kindly young maiden who is rumored to haunt Depot Town's Cream & Crumb. Or perhaps the impish Toast Ghost of Cross Street Coffee?
20th Anniversary Celebration - November 11
If spooky's not your speed, and you're more of an hors d'oeuvres and cocktails type, you can still enjoy the Michigan Firehouse Museum & Education Center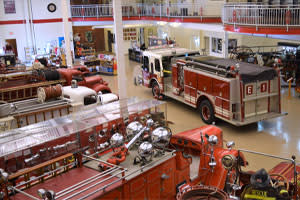 in the soothing light of day for their 20th Anniversary celebration, which takes place on November 11 from 4-8 p.m. View the museum's more than 3,600 items collected and curated over the past two decades (Axes! Hoses! Fire-extinguishing grenades!), and participate in a silent auction and raffle to support the ongoing work of this precious educational resource. Tickets are $20, and don't forget some cash for the bar. The Firehouse Museum 20th Anniversary celebration is your chance to make sure that little kids can continue to geek out about fire trucks for decades to come.
The Michigan Firehouse Museum & Education Center is located at 110 W. Cross St., Ypsilanti.