There may be no more quintessentially "Ann Arbor" attraction than the Urban Fairy Doors - which makes a treasure hunt around the city a must-do for visitors interested in all things quirky, unique and mystical.

First appearing in Ann Arbor in 2005, the premier fairy door spotted at a commercial establishment in Ann Arbor popped up at Sweetwaters Coffee and Tea on West Washington St. - complete with an operational on and off light and a tiny cafe table with coffee mugs. Twenty years later, the staff at the shop say that visitors stop by Sweetwaters to look at the fairy door each and every day. Now, dozens of fairy doors have popped up throughout the entire city. Why? Ann Arbor fairyologist Jonathan Wright says, "There's a great deal of imagination percolating in Ann Arbor!"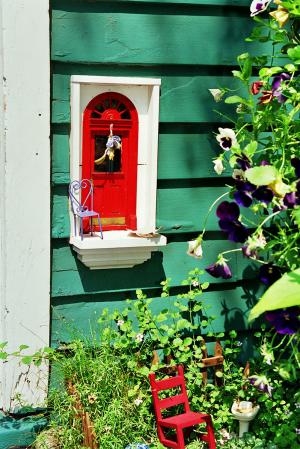 Here's a list of a few places to look for the fairies:
This delightful blue and green door leads to a room carved out of storybooks. Look in the youth section of the library to find it! 
"The fairies that live here are pretty quiet," says Michael Smothers, who manages the Kerrytown shop, "but sometimes, they like to party."  Ask a staff member to show you the adorable fairy room in this unique shop.
When The Ark's facade got a renovation recently, no one was sure if the fairies would stick around - but lo and behold, a lovely NEW fairy door appeared not long after the improvements were complete, and it looks like the fairies have settled right back in.
Crazy Wisdom Bookstore & Tearoom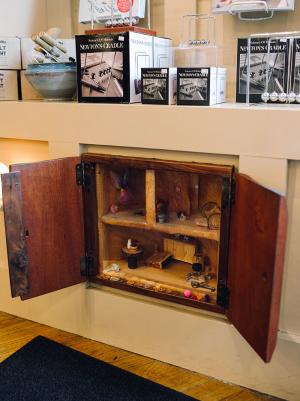 The fairy doors are certainly quintessentially "Ann Arbor" - and without a doubt, so is Crazy Wisdom. Wander around the bookstore's first floor and see if you can locate one (or two) fairy dwellings.
The historic Michigan Theater is a bustling place, so you'll be forgiven if you stroll right past the fairy door located near the entrance. When you're there for a show, take an extra moment to notice the tiny box office window just for the fairies.
Interested in building a door or home for fairies at your own house? Check out the selection of fairy home gear at Unicorn Feed & Supply in downtown Ypsilanti, or at the Sunday Artisan Market in Ann Arbor's Kerrytown District.
 
Like our content? Get the latest Ann Arbor travel inspiration delivered to your inbox. Subscribe to our monthly newsletter.