10 Ways to Immerse Yourself in the Arts
Ann Arbor's rich history as a destination for arts & culture goes back decades. Seamlessly interwoven with the University of Michigan's presence as an artistic and theatrical giant in the community, Ann Arbor is the perfect destination for those who love museums, festivals and events, live performances such as those of the University Musical Society, outdoor art, galleries, artist studios, and more. Home to hundreds of public art pieces, the Ann Arbor area is rich landscape filled with all you need to feed your creative side. Don't forget to bookmark our events calendar, to find the latest arts and culture events happening in and around Ann Arbor!
Museums
The newly-renovated University of Michigan Museum of Natural History is absolutely not to be missed. This place will blow you away! Its new Planetarium & Dome Theater will entertain you and educate you with programs from archaeology to zoology and everything in between. The mammoth found just minutes away in the small city of Chelsea is on display, along with tons of other new exhibits that are interactive, hands-on, and utterly fascinating.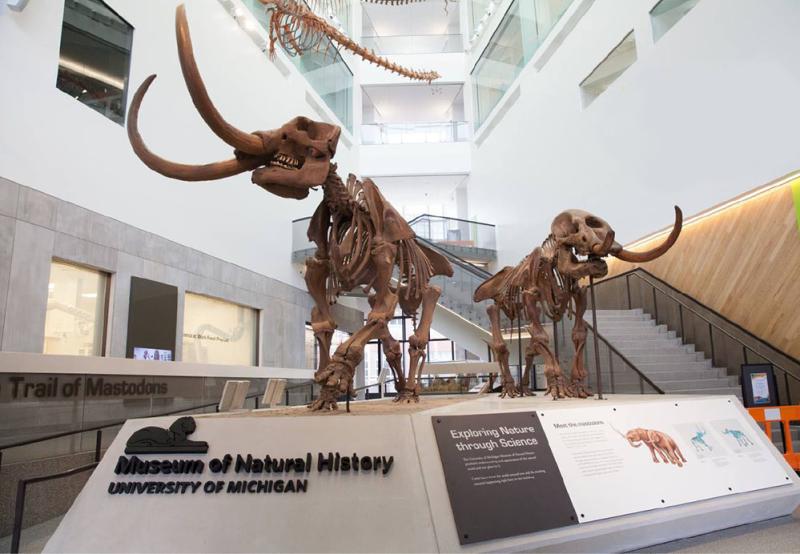 The University of Michigan Museum of Art (UMMA) is one of the largest university art museums in the country, at 94,000 square feet. With frequent boundary-crushing exhibitions and events, and boatloads of programs and services, this world-class museum is an artistic powerhouse. Here you will find over 20,000 works of art that span cultures, eras, and media.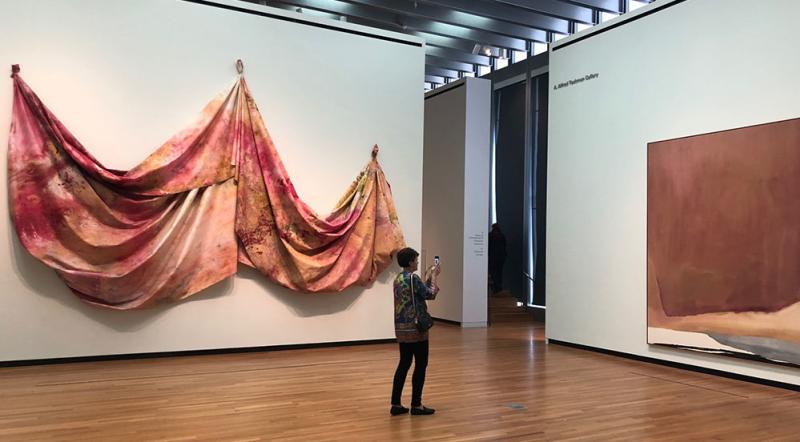 Where can you visit a mummy with a Twitter handle? Right here in Ann Arbor's State Street District at the Kelsey Museum of Archaeology. Djehutymose (the aforementioned sarcophagus), is just the tip of the iceberg when it comes to WOW moments you'll have at the Kelsey Museum. It has a collection of more than 100,000 ancient and medieval artifacts from the civilizations of the Mediterranean and the Near East. The collection includes Egyptian, Greek, Roman, Etruscan, Coptic, Persian, and Islamic archaeological artifacts.

Murals
The 10-story "Challenge Everything. Create Anything." mural is the area's largest public art piece. This mural reflects Ann Arbor's vibrant energy and strong community feel. It celebrates human creativity, ingenuity and curiosity in a playful and illustrative way. The work was created by husband and wife duo, Mary Thiefels and Danijel Matanic, in 2019. Together, they have painted murals for the University of Michigan Museum of Natural History, McKinley Properties, Google headquarters, Corner Health Clinic in Ypsilanti, and many, many more.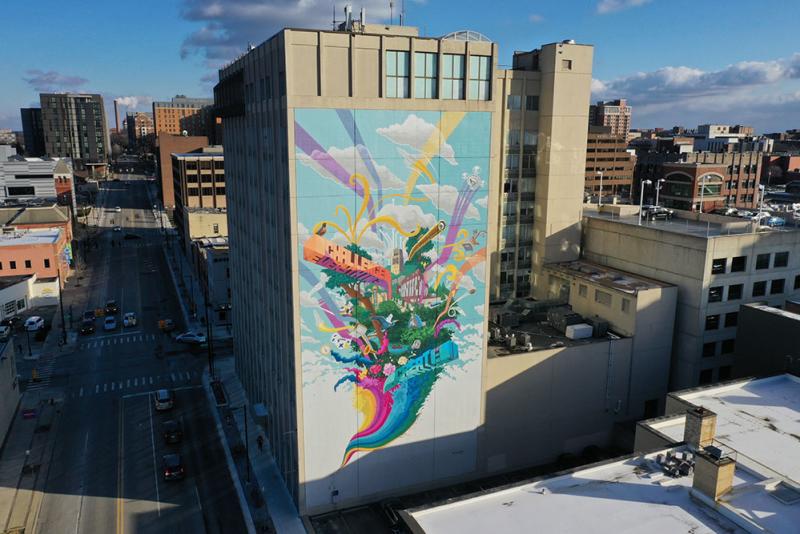 The Bookstore Mural is an outdoor mural by Richard Wolk, located on the corner of Liberty Street and State Street in downtown Ann Arbor. The mural is an Ann Arbor icon, and is one of the city's most well-known pieces of public art. The work, colloquially referred to as the Bookstore Mural, was painted in 1984. It is also sometimes know as the Poet Mural, Liberty Street Mural, The Bookstore Mural, and East Liberty Street Wall Mural. The mural depicts the headshots of Woody Allen, Edgar Allan Poe, Hermann Hesse, Franz Kafka, and Anaïs Nin.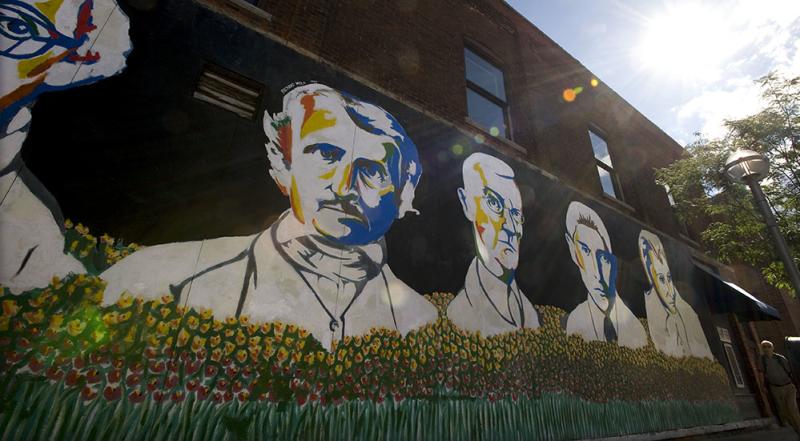 The Singing in the Rain mural is a well-known spot in downtown Ann Arbor. Created by local legend, artist David Zinn, this mural depicts the iconic scene in which Gene Kelly sings, dances, and swings from a lamppost in the rain. Zinn created a fun illusion, incorporating a real lamppost on the sidewalk. If you stand in just the right spot, you can see a wall-painted 2-D Gene Kelly swinging from a real-world 3-D lamppost. The perfect spot for Instagrammable moments!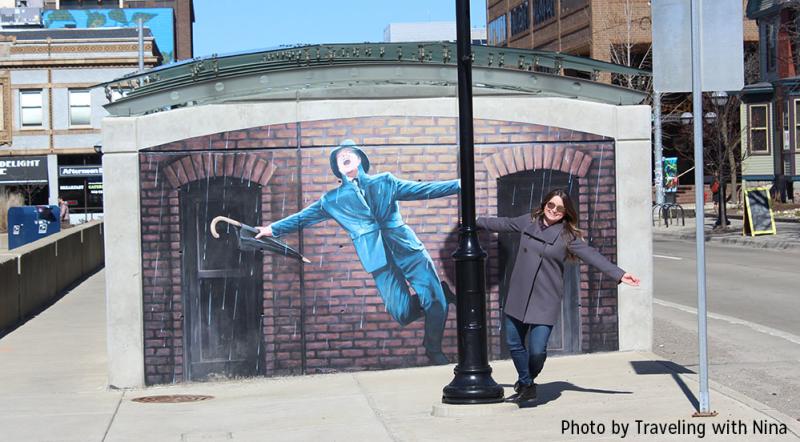 The Michigan Wings mural, located on the corner of East William and Maynard streets at Tower Plaza, is filled with well-known Ann Arbor and University of Michigan landmarks. The mural contains Burton Tower, the Law Quad, the brass "M" on the Diag, a stack of books representing academic prestige at U-M and a subtle nod to Michigan football helmets' iconic wing design. It was created by Kelsey Montague, an artist known internationally for her murals that invite audience participation and irresistible photo opportunities.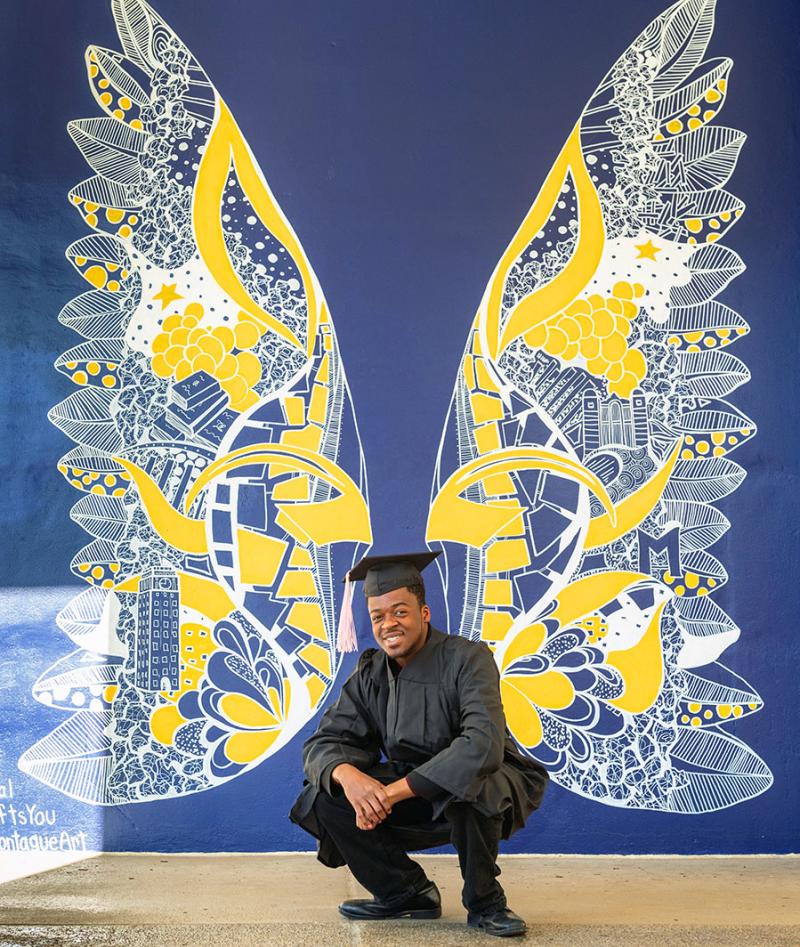 Historic Theaters
Designed by Detroit-based architect Maurice Finkel and built in 1927, the historic Michigan Theater seats 1610 and features the theater's original 1927 Barton Theatre Pipe Organ, orchestra pit, stage, and elaborate architectural details. Today, the theater is the current home of the annual Ann Arbor Film Festival and the Ann Arbor Symphony. They host regular screenings of indie and international films, award-winning artistic presentations and music concerts.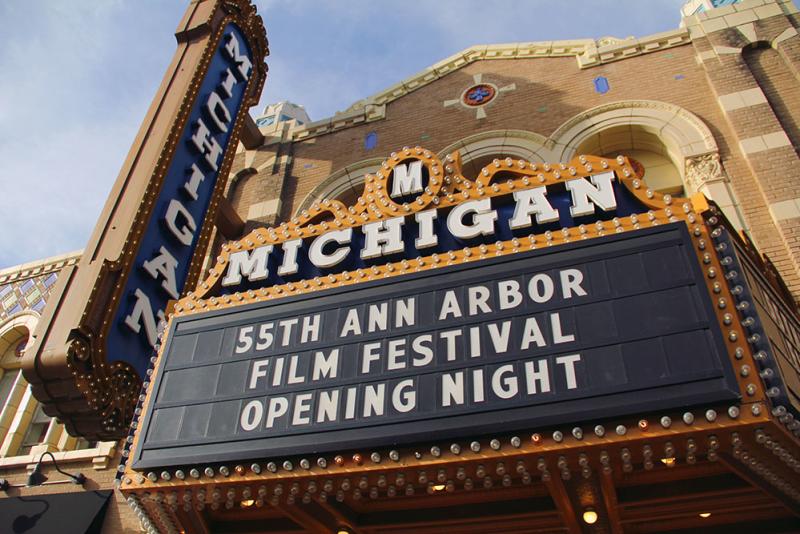 The State Theatre's central location and distinctive green, yellow and red marquee have made it an icon of Ann Arbor's State Street District. The State Theatre is currently an operational movie palace with 4 screens, designed in 1942 by C. Howard Crane in the Art Deco style.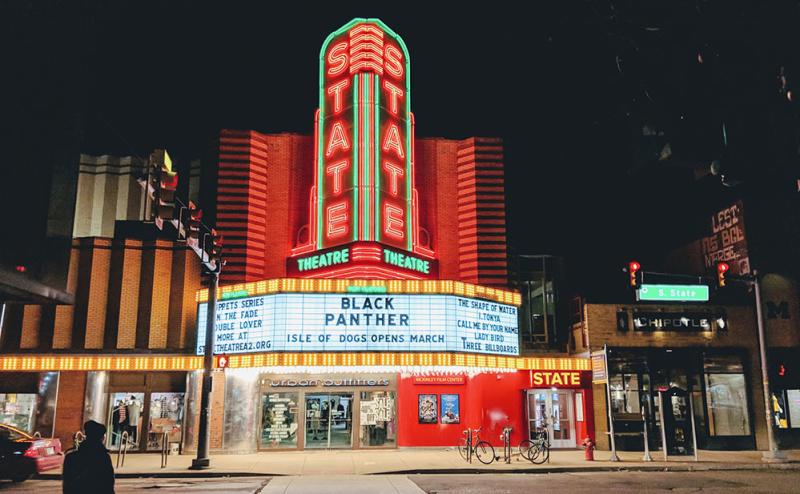 The Ark is a nationally known acoustic and folk music venue. It has been an Ann Arbor institution since 1965, located right on Main Street. The theater is an intimate 400-seat club presenting performers ranging from young up-and-comers to classic figures. The Ark has been home to the annual Ann Arbor Folk Festival, since 1977.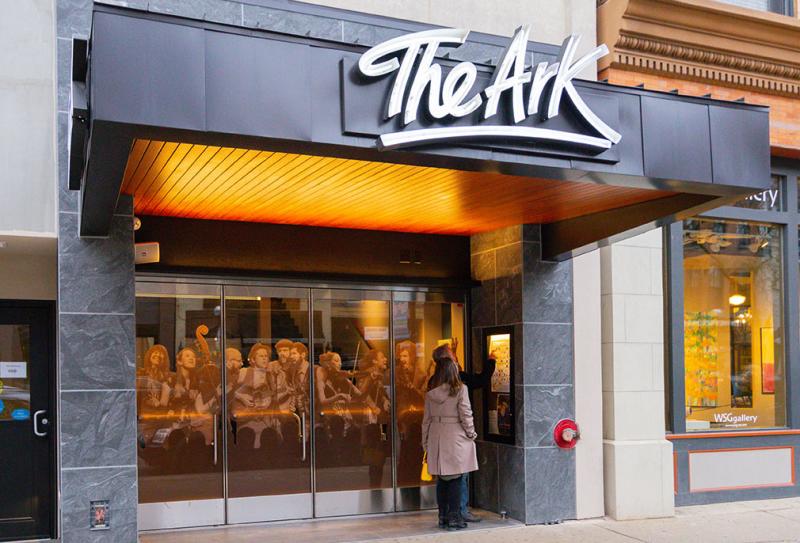 Don't forget to bookmark our events calendar, to find the latest arts and culture events happening in and around Ann Arbor!
Like our content?
Get all of the latest Ann Arbor happenings delivered to your inbox. Subscribe to our monthly newsletter.
Follow Destination Ann Arbor, @AnnArbor on social media. Instagram, Facebook, Twitter