ANN ARBOR AREA HOTEL WEEK
Thank you! See You Next Time!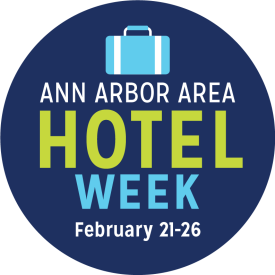 On February 21-26, 2021, a number of area hotels offered special rates and promotions, for a limited time, to coincide with Ann Arbor Restaurant Week. 
Area hotels have implemented safety and sanitation protocols to help mitigate the spread of COVID-19, including contactless check-in, social distancing markers, and sanitation stands. Please check with your hotel of choice for the most updated information and safety practices.  
Ann Arbor Restaurant Week featured fine dining lunch and dinner course menus, family meals to go, virtual demonstrations, and chef highlights. There were even vegan and vegetarian options available. Dine in or order takeout from award-winning Ann Arbor restaurants.
February 21-26, 2021 was an especially exciting week to visit, with these special hotel deals and delicious restaurant menus available for you to enjoy. We welcome you to enjoy the Ann Arbor Area all year long! Bookmark our Hotel Promotions page to be up to date on the latest hotel deals year round.