It's almost unfair to other places how stunning Washtenaw County is in the fall. We all know that our little part of the world is gorgeous year round but, in the humble opinion of the author, fall is when our area really shines. The warm colors of the foliage smack you right in the face with their beauty. It is as though the leaves changed color just to remind you of all the cozy sweaters you forgot you had. The festive gourds you have yet to arrange on your coffee table. The apple fritters you have yet to eat. The apple donuts you have yet to eat. The apple pies you have yet to eat.
Are you feeling inspired yet? Can you smell the pumpkin spice in the air? Read on to find out how to maximize your Washtenaw County Fall Experience! Be sure to post your photos with #DestinationAnnArbor so we can all see your best Washtenaw County fall finds! (Especially your food photos. I'm gonna need to see all the fall foods.)
1. Start with Apples - Bite into a crisp Michigan apple and kick your fall festivities off with a crunch. To pick your own apples,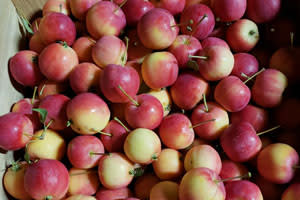 check out Wasem Fruit Farm - and pick up a couple of house made jams. Dexter Cider Mill has sugar dusted apple donuts, fresh apple cider, and many more delicious fall treats. 
2. Warm Up with a Beverage - Hit up Cultivate Coffee and Taphouse in Ypsilanti for their fall tea and coffee menus. They've also got autumnal grownup drinks, don't miss those. If you need a quick shot of warm chocolatey goodness, visit Frita Batidos for a drinking chocolate (and maybe a churro for dipping). 
3. Peep Autumn Leaves - Get out and take in the vivid colors of the changing leaves. Catch the colors on foot at Sharon Mills County Park or take a scenic car or bike ride along Huron River Drive. 
4. Sip a Michigan craft beer in a beer garden - Bill's Beer Garden in Ann Arbor (open through October) makes for a great fall people watching spot on a cool autumn night. Bill's offers local craft brews & wine in the evenings with picnic table seating.
5. Cozy Up to a Fireplace - No fireplace in your home? No problem. Did you know every branch of the Ann Arbor District Library (except the downtown branch) has a fireplace? Arbor Brewing Company in Ypsilanti also has one. Grab a book and wear a good pair of socks - you won't be sorry. 
6. Take to the Water - Rent a canoe or a kayak and cruise down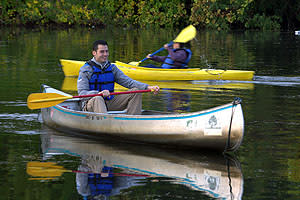 the Huron River to take in an alternate view of the autumn scenery, or head to Ford Lake and catch a stunning sunset from the shore.
7. Get Lost in a Corn Maze - Check out Alber Orchard in Manchester for a Wild West themed, 7-acre corn maze! Be sure to grab a gallon of hand-pressed apple cider while you're there. 
8. Pick a Pumpkin - Fusilier Family Farm & Greenhouse has you covered.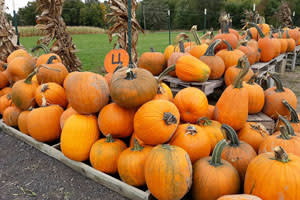 Grab the perfect pumpkin for your Halloween jack-o-lantern. Take home a bag of decorative gourds of all shapes and sizes! 
9. Eat a Pumpkin - Spice, That Is: The Ypsi Food Co-Op has scrumptious pumpkin muffins and other artisan treats for your fall spice fix.
10. Get Spooky - Visit the Rolling Hills Monster Mash for a Halloween carnival, hay ride, costume contest, and more! If you're looking for a fright, head to Night Terrors at Wiard's Orchards and Country Fair to find the haunted thrills you seek. To commune with the other side, book a spot on a Highland Cemetery Evening Lantern Tour for real life stories of murder and intrigue. 
11. Eat Soup - Some nights are soup nights. Stay at home in your comfy clothes and cook up a fall soup. Grab a recipe from local food blog Crisp. Pick up your ingredients at one of Washtenaw County's many Farmers Markets. Head to the the Chelsea Milling Company and grab a box or two of Jiffy cornbread to complete your meal. 
12. Check Out a Festival - Some of the many festivals and holiday events this season include, Ypsi Glow, Kerrytown Kindlefest, Moonlight Madness and Midnight Madness.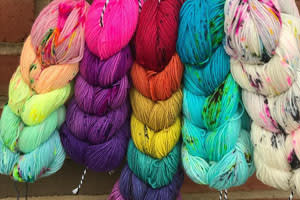 13. Knit Something Snuggly - I'm always up for adding a cozy garment to my fall wardrobe. Pick up some gorgeous yarns at Spun in Ann Arbor or Artisan Knitworks in Chelsea. Take a knitting class. Foster your creative side while staying warm.
14. Find Some Vintage Gems - Fall is a perfect time to hunt for antiques or shopping for eclectic treasures. Stroll through A2 Antiques Market and flip through the killer record selection at A2 Vintage in downtown Ypsilanti. Take home a one-of-a-kind find. 
Enjoy our content? Sign up for Destination Ann Arbor's monthly newsletter to have it delivered straight to your inbox!