But There Are Countless Reasons to Visit! 
We're here to help you create your Ann Arbor area bucket list. Here are 18 must-see stops when visiting Ann Arbor. Our list covers the most popular favorites and the hidden gems.
1. If you've ever thought, "I'd like to visit the best college town in America," then you're in the right place! Home to the University of Michigan, there are so many events to experience, museums to explore, and natural beauty to appreciate — all maintained by this public university. Check out central campus, just steps from downtown Ann Arbor. Stop by the historic Michigan Union and the Law Quad, home to the beautiful Law Library.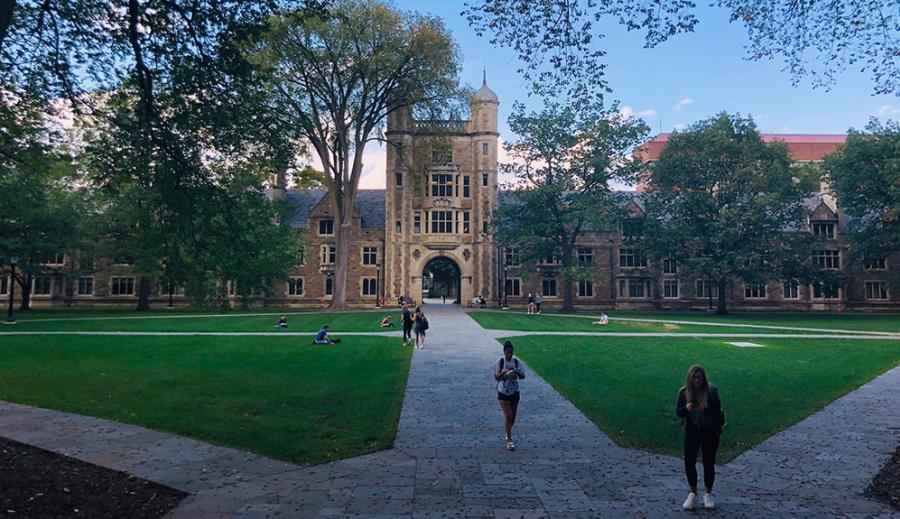 2. For the entire University of Michigan experience, head over to the Athletic Campus and check out the largest stadium in the United States. If you can't make it to a game, even a trip to Michigan Stadium during public tour will certainly leave you with an understanding of how this rather unassuming building from the outside earned its nickname, The Big House.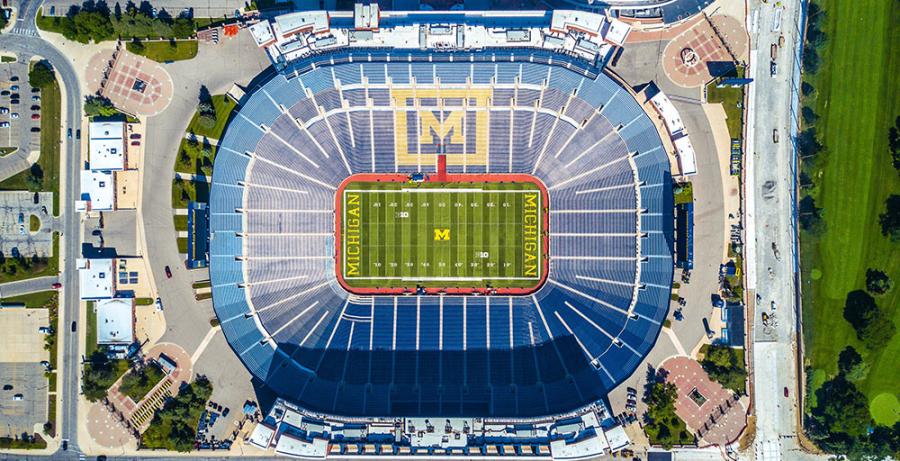 3. Stroll through Ann Arbor downtown neighborhoods! There's the Main Street area (named one of America's Best Main Streets), State Street District, Kerrytown, and South University. Each with countless restaurants, boutiques, events, and more, you'll discover delights for all your senses. Plan your visit around one of the downtown area's premier events such as its twice-yearly Restaurant Week, Ann Arbor Farmers Market and the Rolling Sculpture Car Show.
4. Here in Ann Arbor, one of the top questions we get is, "Where is Zingerman's?" Of course, we now must clarify, "Which Zingerman's?" because the Community of Businesses has grown so much since the original Zingerman's Delicatessen opened in 1982. For a truly gastronomic phenomenon, dine at the Deli, both restaurants, and all the retail shops in one day!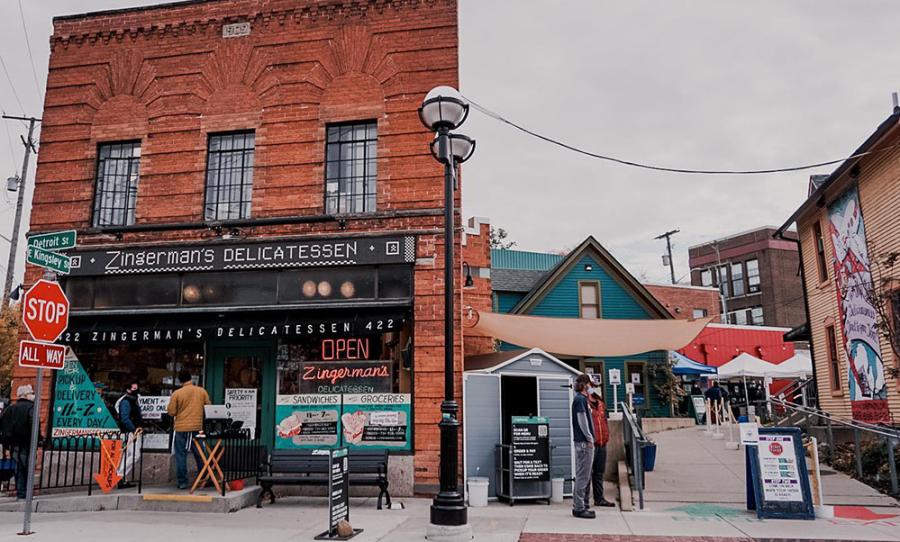 5. If you appreciate a different type of craft beverage, we have you covered! Check out The Last Word to enjoy craft cocktails poured by award-winning bartenders. Settle in at Nightcap to experience delicious cocktails made using innovative techniques (like centrifuge machines) and presented with style and panache. The Ravens Club delivers on food and cocktails — and some amazing jazz on Sunday nights.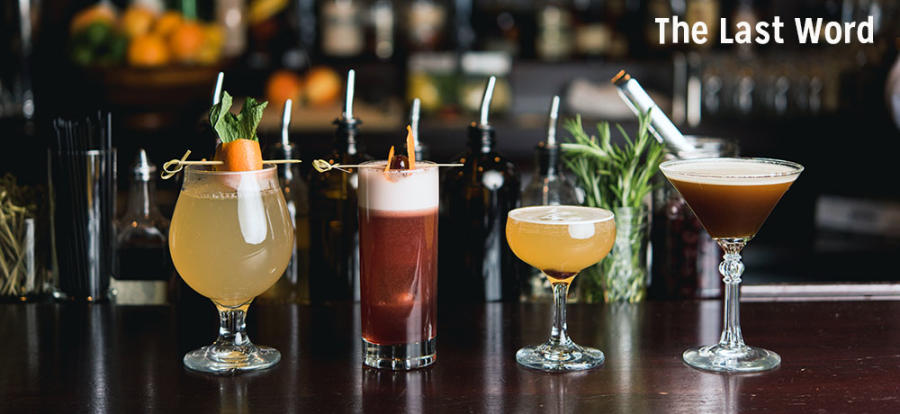 6. If you enjoy listening to live music, then Ann Arbor is a great destination for you! With performances more than 300 nights every year, The Ark is a reliable source for quality musicians who fall into the wide-ranging genres of folk and roots music. The Michigan Theater, Blind Pig, Hill Auditorium, and Power Center are other great venues for everything from national to local artists.
7. Craft beer culture in Ann Arbor is vast and varied. Home to brewers specializing in ales, lagers, sours, and more, you'll find the perfect beer for you in the Ann Arbor areaIn the article, All 50 States, Ranked by Their Beer, Thrillist ranked Michigan fourth specifically calling out Ann Arbor's neighboring community Dexter as "home to the coveted bottle-conditioned madness of Jolly Pumpkin." New breweries are opening all the time! Check out Stony Lake Brewing Company, HOMES and 734 Brewery.
 
8. Discover the Ann Arbor's urban oasis with a float down the Huron River. Kayaks, canoes, and rafts are available for rent at Argo and Gallup Parks (seasonally). For the more adventurous, give stand up paddle boarding a try or just keep it chill with a paddle boat! If you've ever wanted to try fly fishing, our friends at Schultz Outfitters in Ypsilanti and The Painted Trout in Dexter are available for guided trips, lessons, and more!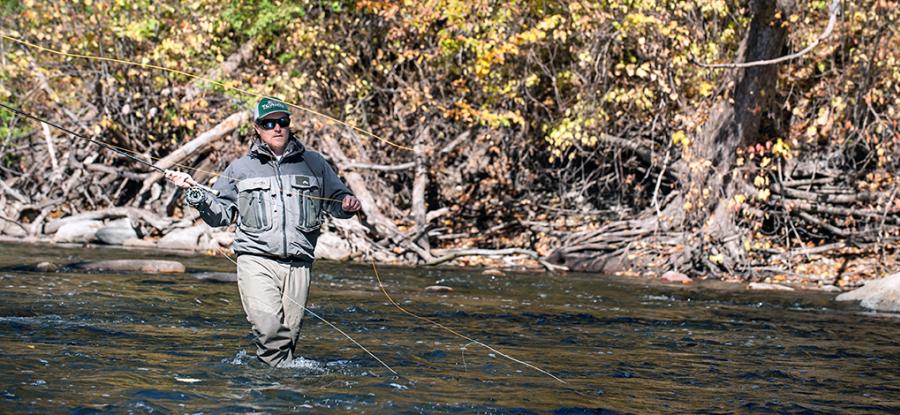 9. Book lovers will rejoice as they discover a world of literary delights. Check out indie bookstore Literati for your general literature needs or explore wonderful niche shops like Crazy Wisdom. In neighboring Ypsilanti, Black Stone Bookstore & Cultural Center specializes in African American literature.
10. Looking for that perfect gift or souvenir is incredibly easy! Kerrytown Market and Shops and Nickels Arcade offer great options from antiques and artwork to clothes and toys! Looking for that maize and blue gear? Check out The M Den and Underground Printing. Ann Arbor is also home to some of our favorite Michigan sister cities exports — a Cherry Republic and Shinola.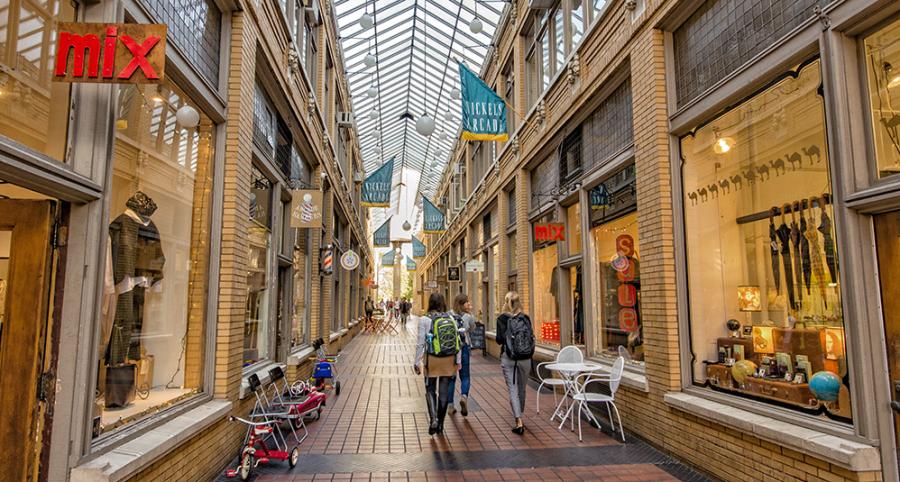 11. Keeping things fresh are the numerous farmers markets around the area. The Ann Arbor Farmers Market on Saturdays year-round provides access to local produce for shoppers and chefs! Growing Hope runs the Ypsilanti Farmers Market on Washington Street — a year-round, indoor and outdoor home for its Tuesday market. We also have a number of U-pick orchards throughout the area!
12. Catch a movie at the recently renovated State Theatre. Combining a stunning art deco décor with state-of-the-art conveniences like online ticket ordering with seat selection. Of course, it wouldn't be the State Theatre if they didn't continue to show Midnight movies of cult classics and fan favorites.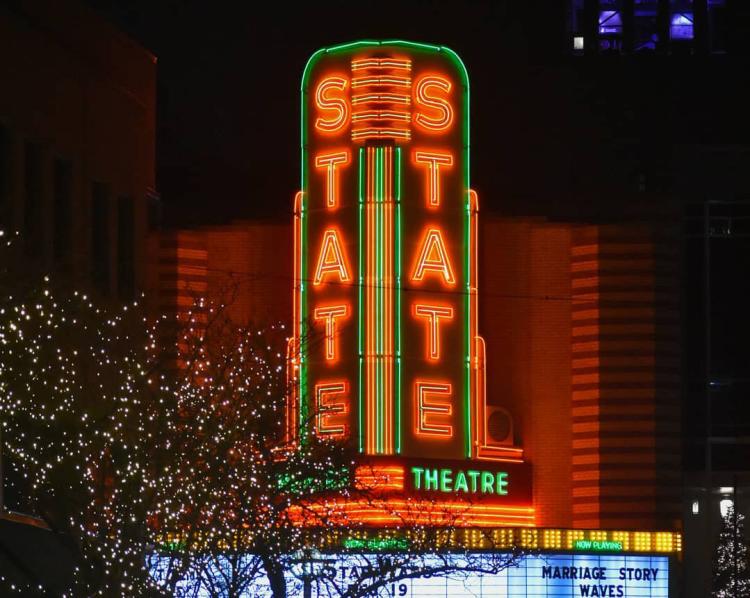 13. How would you like to see where the famous JIFFY cornbread mix is made? Known for their iconic blue boxes, the JIFFY Mix Factory in neighboring Chelsea is known worldwide! Call ahead to arrange free tours to see how your favorite cornbread mix is made.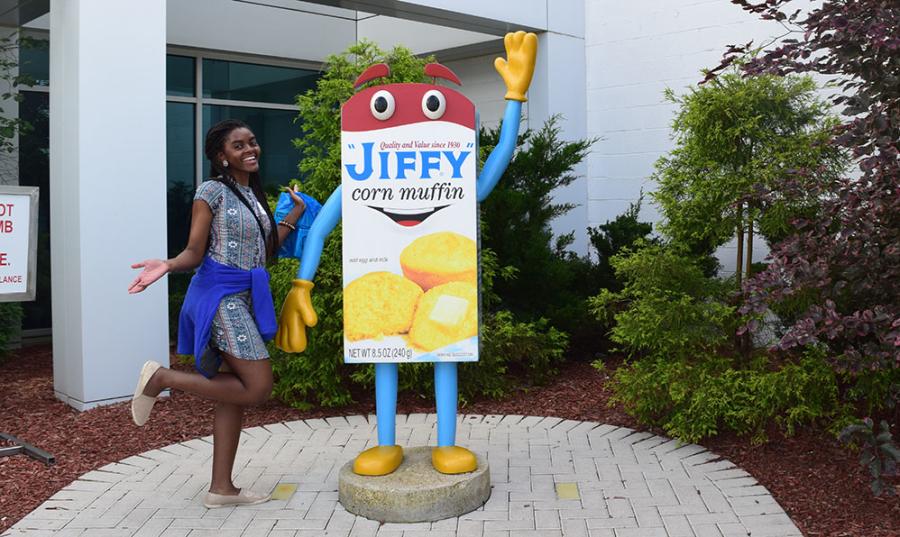 14. Bring the family! The renowned Ann Arbor Hands-On Museum, the inspiring Leslie Science & Nature Center, the engaging Michigan Firehouse Museum, and the enriching Yankee Air Museum have STEAM programming designed for all ages.
 
15. Ann Arbor offers an abundance of art galleries and museums. Stop by the University of Michigan Museum of Art (UMMA) on campus or the U-M Stamps Gallery located downtown Ann Arbor. To find locally-made original artwork for sale, don't miss the Ann Arbor Art Center.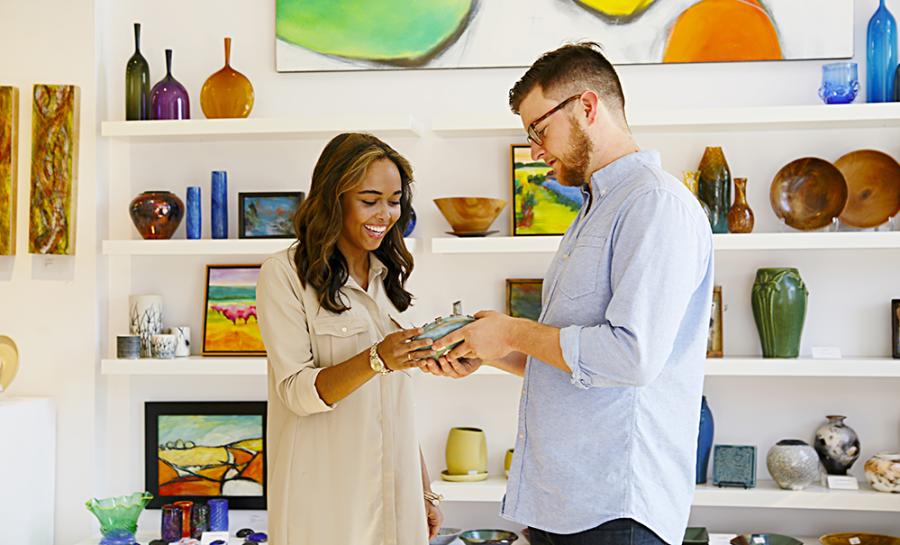 16. Rev your engines! Located in a former Hudson automobile dealership and repair shop, the Ypsilanti Automotive Heritage Museum preserves Ypsilanti rich automotive heritage. Home to the National Hudson Museum, the museum also has exhibits paying tribute to Hudson, Apex Motors, Kaiser-Frazer and more. 
17. Pedal your way through downtown Ann Arbor! Experience a customized tour on a sixteen-person pedal trolley, provided by High Five Pedal Tours. Visit unique bookstores, notable breweries, outstanding restaurants, or create a tour of your own featuring your favorite stops!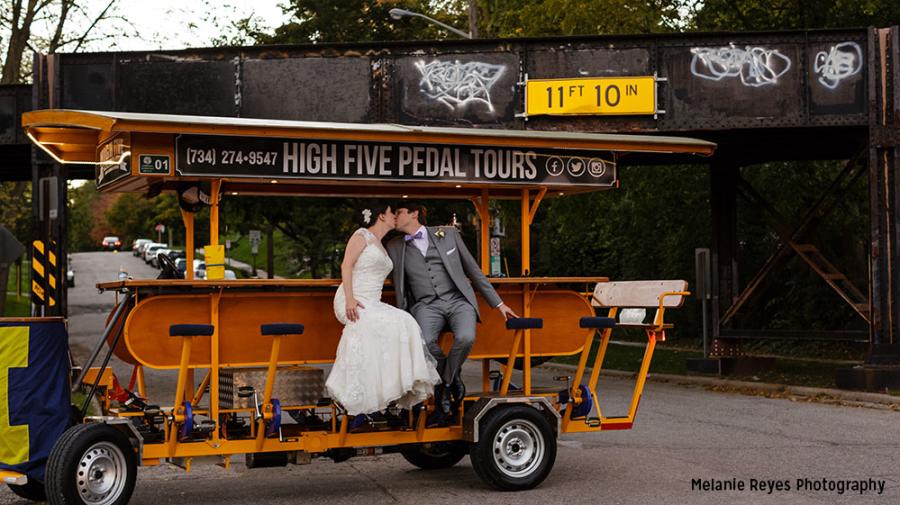 18. Experience the amazing events hosted throughout the year! View our calendar of headlining annual events, such as the Ann Arbor Art Fair.
Like our content?
Get all of the latest Ann Arbor happenings delivered to your inbox. Subscribe to our monthly newsletter.
Follow Destination Ann Arbor, @AnnArbor on social media. Instagram, Facebook, Twitter