Are you living in Ann Arbor and want to see the city from a different perspective? Are you looking to practice sustainability but not sure where or how to begin your green adventure? If so, then this blog is for you! 
We will show you how to maximize your sustainability lifestyle with a fun Ann Arbor transit adventure and one of our favorite public transit routes. 
Whether you're an Ann Arbor area veteran or visiting the city for a day or two, there's a chance you've seen The Ann Arbor Area Transportation Authority (TheRide) around town. The public transit system for the greater Ann Arbor-Ypsilanti area, TheRide helps its users maintain a sustainable lifestyle and can take you anywhere around town.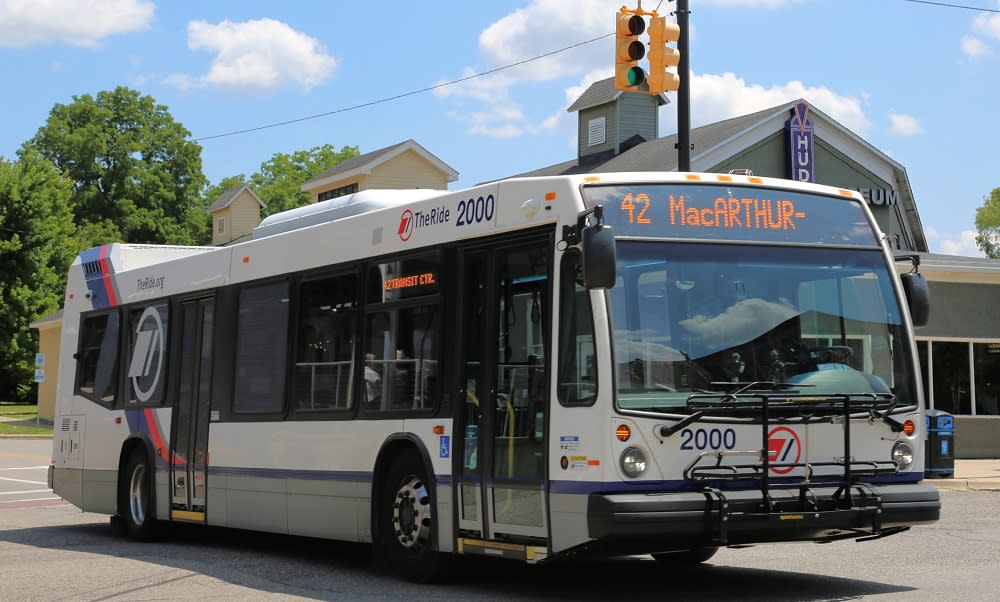 For this blog, we will show you how to make the most of using TheRide and one of their most popular routes in Ann Arbor -  Route 28 – Pauline. 

BEFORE AND AFTER YOUR TRIP 
Your trip will begin and end at the Blake Transit Center (328 S Fifth Avenue, Ann Arbor, MI 48104). But before you start your green adventure, or after you become an bus-riding expert, here are some places we recommend you check out near the Transit Center.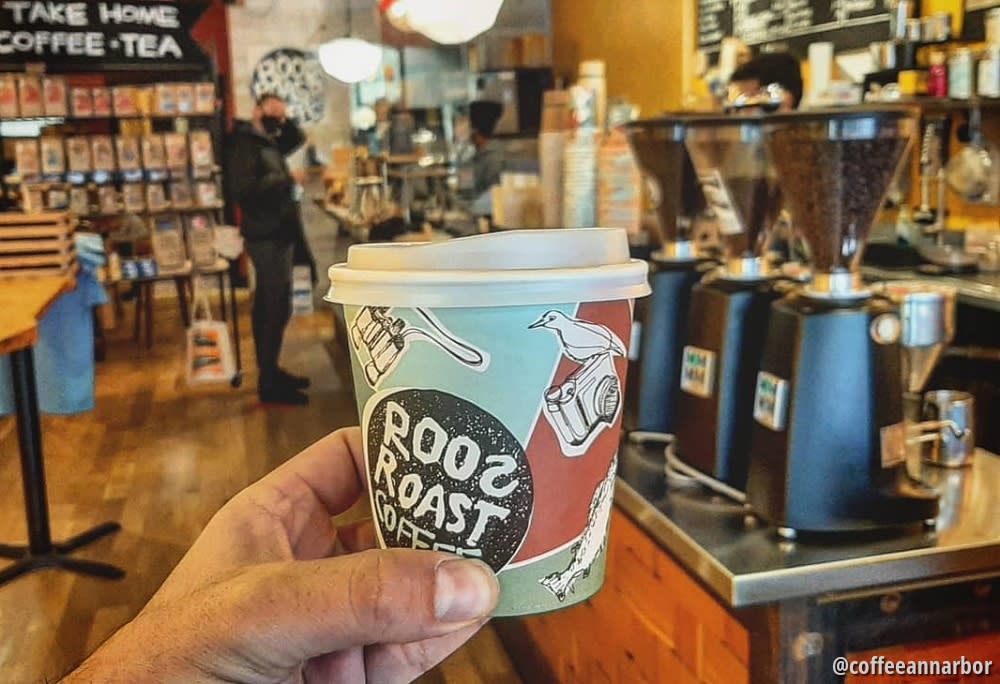 Grab a Coffee at RoosRoast 
Created by Ann Arbor native John Roos, RoosRoast Coffee is a coffee shop that offers delicious flavors like their Sumatra-based blended "Lobster Butter Love" flavor or their popular dark-roast "Portland in the 90s."  
RoosRoast emphatically maintains sustainable practices, such as Eco Roasting, the most sustainable and responsible method of private-label coffee roasting, and offering only sustainably sourced coffee. Before you begin your adventure, we recommend exploring Roos! Located one block from the Blake Transit Center. 
Enjoy a Meal At Avalon 
Avalon Bakery is the self-proclaimed "Hearth & Soul of Ann Arbor." A coffee bar & restaurant, their menu ranges from toast to refreshing cocktails and wines. Avalon Bakery is a delicious one-stop shop before embarking on your transit trip. Avalon is located one block from the Blake Transit Center.
Lunch or Dinner at TAQ  
If you're looking for a lunch or dinner-time meal, we recommend visiting TAQ. This restaurant offers a bevy of specialized tacos, from their chipotle rubbed skirt steak to their Pastor taco, which features grilled guajillo pork shoulder, charred pineapple, and sliced Fresno chile. 
This restaurant provides delicious food at affordable prices to keep you satisfied before embarking on your bus travel. TAQ is one block from the Blake Transit Center. 
 
ALL FUELED UP - BEGIN YOUR TRIP TO STADIUM & MAPLE 
Once you're at the Blake Transit Center, look for the bus that says Route 28 - Pauline near the automatic sliding doors. It is scheduled to depart every hour at quarter after (e.g., 9:15am) from 8:15am to at least 7:15pm. It's best practice to get to the bus stop a few minutes early and have your cash or EZ fare ticket in your hand as you board. You can let the driver know it's your first time and they'll instruct you on where to put your payment. 
You will need to pull the yellow cable or push the stop button when the bus is approaching Stadium and Maple to alert the driver you want to exit the bus.  
 
YOU'VE ARRIVED!  
With your transit adventure beginning at the Blake Transit Center (#1), we recommend taking time visit the Westgate Shopping Center area (between #3 and #4). Below are some of our recommended places to visit: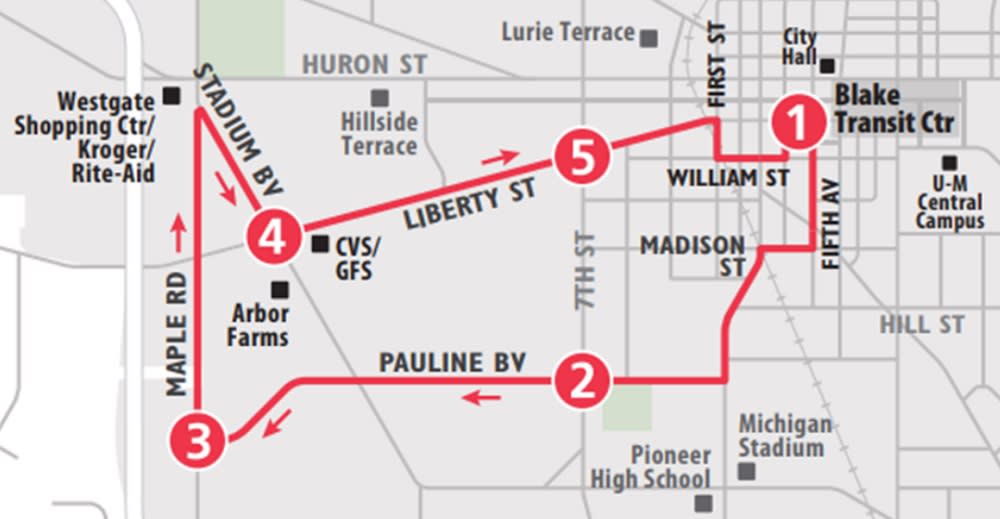 Ann Arbor District Library
The Ann Arbor District Library (AADL) in the Westgate Shopping Center area offers significant resources for everyone, from traditional materials, such as books, DVDs, and magazines, to their kid-friendly iPad gaming stations. 
Looking for a snack? We recommend you take advantage of the full-service Sweetwaters Cafe within the AADL which has desserts, pastries, teas, and frozen drinks to help you stay refreshed on your travels. 
Little Seedling 
Little Seedling is a store that sells baby clothing, gear, and toys.  Along with children-specific products, they also have a designated playroom for little ones. Expecting parents can also take advantage of their events, such as the store's diapering workshops. 
Star's Cafe 
In the mood for delicious Middle Eastern cuisine? Star's Cafe offers Mediterranean favorites like shawarmas, fattoush, baba ghannouj, and so much more.  
Zingerman's Roadhouse 
A prominent establishment within the Ann Arbor food world, Zingerman's Roadhouse offers breakfast, lunch, and dinner. Enjoy a great meal before returning to TheRide for your trip back downtown. 
READY TO HEAD BACK 
You can use a service called Text My Bus to determine how much time you have before the bus comes. Send a text to 41411 with the message "AAATA 681" to get a message with estimated arrival times at Stadium + Maple. Set a timer if you're on a tight schedule or enjoy yourself knowing another bus will be on its way each hour.  Simply return to the same location where the bus dropped you off when you are ready to go back downtown. Stand near the bus stop sign to indicate you want to board an approaching Route 28 bus.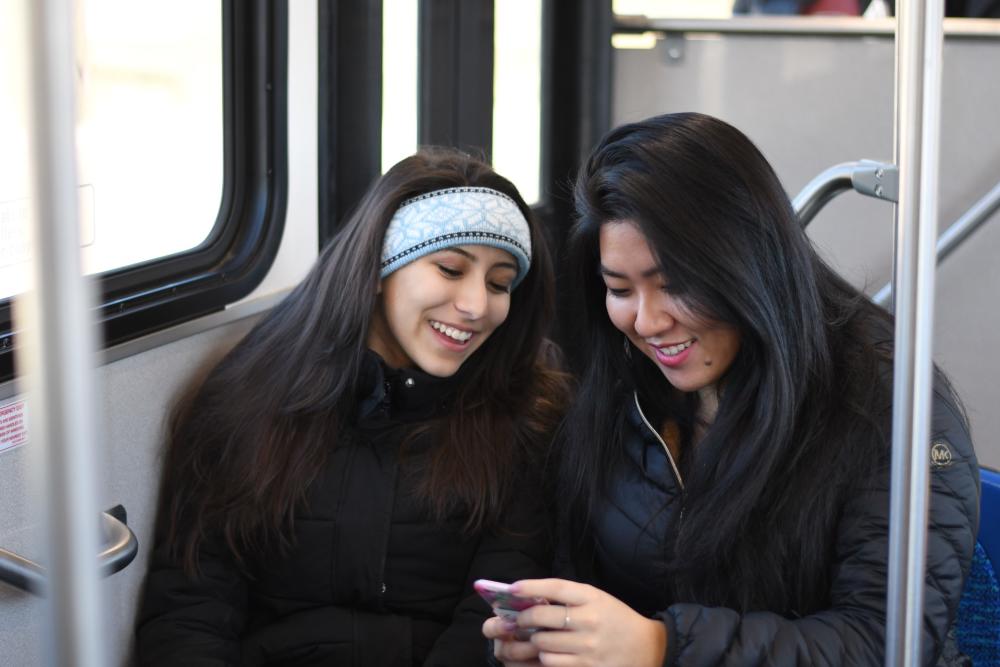 When you're finished, you'll have successfully navigated public transportation in a safe and welcoming community! You'll understand how to board a bus, use Text My Bus, and signal that you want to get off. Since many public transportation systems follow the same principles and use the same vendors, you'll be better equipped for your public transportation day out. 
Bus schedule valid April 30, 2023 through August 26, 2023. Schedules are subject to change. For info: 734-996-0400 / www.theride.org/how-ride/ride-bus 
The travel cost for this trip will be $3 or less per person. Either bring $3 cash or use the EZfare app on a smartphone. 
LIKE OUR CONTENT?
Get all of the latest Ann Arbor happenings delivered to your inbox. Subscribe to our monthly newsletter.
Follow Destination Ann Arbor, @AnnArbor on social media: Instagram, Facebook, TikTok, and Pinterest.