Wintertime here in the Ann Arbor area can really have you feeling like you're in a Winter Wonderland! The views of snow-dusted trees and the sparkle from the sun's reflection, it sure is a sight to see around this time of year. This winter, head straight to the Ann Arbor area for tons of snowy fun! Find top winter park destinations with many outdoor recreational opportunities like Waterloo Recreation Area and Park Lyndon in Chelsea, and Hudson Mills Metropark in Dexter. From activities like sledding to competitive games of disc golf, find your next favorite outdoor adventure here! How many of these area winter activities can you conquer?  
The Michigan DNR has provided residents and visitors tips on how to safely play and stay outside this Winter. Click here to learn helpful tips before heading out! 
Bundle + Gear Up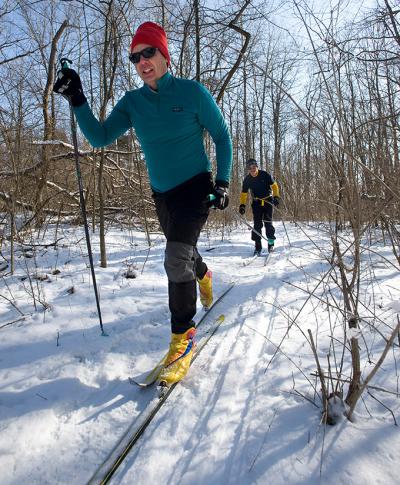 When playing outdoors in Michigan winter weather, it is necessary to bundle up in those fuzzy socks and thick snow-pants to keep safe and warm. Before visiting area parks, make plans to stop and shop for the coolest outdoor winter apparel and gear with ease. 
Find quality winter wear for your outing at Bivouac, located Downtown Ann Arbor in the State Street District.  Providing nearly 50 years of Ann Arbor style, Bivouac carries well known outdoor brands like Merrell and Patagonia. For the winter camping enthusiast, Bivouac has you covered with high quality outdoor gear designed for the coldest and harshest weather conditions.
Shop like-new and gently used equipment for your outdoor recreation activities at Play It Again Sports before beginning your winter fun! Find ice skates, snowboards, winter outerwear, disc golfing accessories and tons more. The knowledgeable staff can help find exactly what you're looking for to fit your needs.  
Needing some skiing and snowboarding services or tuning before hitting the hills? Bring your gear to Sun & Snow, the top equipment shop for these winter activities! Nationally recognized as one of the top boot labs in the country, skiers can schedule custom boot fittings by appointment with fitting experts. Sun & Snow also offers rentals for downhill skis, snowboards and snowshoes for children and adults. Switch up your gear and find something new at the Ski & Board Swap gear sale happening this January. 
Best Sledding Hills 
Sledders and thrill-seekers rejoice! Sledding around the area is a fun day activity for all ages. Sled down speedy slopes like the 275-ft hill at Rolling Hills County Park in Ypsilanti, and more mellow hills at Saline's Mill Pond Park, perfect for novice sledders. Check out our top sledding spots, then share your favorite sledding hills with us in the comments!  
Ann Arbor sledding park favorite, Veteran's Memorial Park, has two main sledding hills and is known to be fairly steep and can build up quite a bit of speed on your way down. Enjoy the thrill of these hills, then climb back up and do it all again for hours of fun! This sledding scene is ideal for more experienced or advanced sledders.  
The sledding hill at Leslie Park is certainly fun for all ages! The park is easily accessible with plenty of parking. At top of the hill, admire the view overlooking the beautiful Leslie Golf Course. Nearby is the Leslie Science & Nature Center, where you can find a surprisingly speedy slope on the short hill behind the building. A quick ride that's quite fun! 
Burns Park's sledding hill, known by many as Magic Mountain, has a quick but speedy ride down. Each time you race to the top again, enjoy taking in the views of Ann Arbor and the U-M Stadium!    
Have a few little ones with you or seeking something more relaxed? Try Buhr Park, with several small hills and one larger mellow hill, this is a great area for those new to sledding. Mushroom Park is also sprinkled with small hills and ideal for younger sledders.  
 
Cross-Country Skiing & Snowshoeing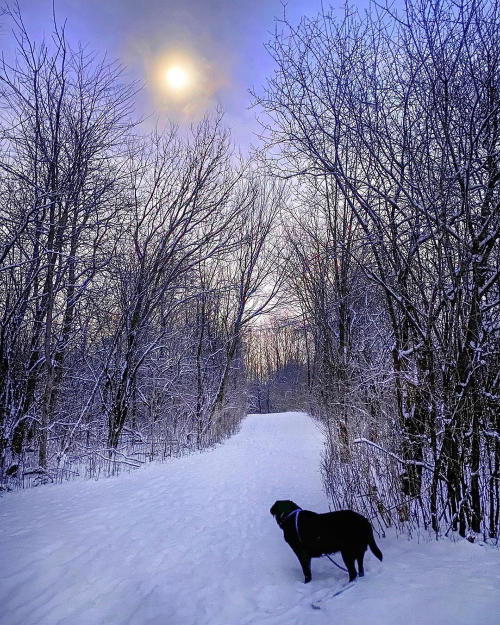 The Ann Arbor area has tons of trails and pathways for cross-country skiers and snowshoers of all skill levels. As a common courtesy when out on the trails, snowshoers are encouraged to use the sides of groomed trails, keeping the center open to cross-country skiers. Whether you're seeking a short pathway or going the distance, you can find what you're looking for here! 
Rolling Hills County Park is a top winter spot among area cross-country skiers and snowshoers, offering over three miles of well-kept, groomed trails and tons of open space. Find a flat, shorter trail ideal for beginning skiers, a longer trail with different terrain for those more advanced, and a one-mile, torch-lit trail for night-time skiing! Rolling Hills also offers ski equipment rentals per hour.   
Known for its smooth trails and beautiful gardens that blossom in warmer months, County Farm Park is a hidden gem during the wintertime. This park fills 127 acres with 3.5 miles of ungroomed, marked trails ideal for the experienced snowshoer and skier. Beautiful open land all around provide picturesque adventures while out on the trails.   
Pack your equipment and head to the Border-to-Border Trail in Dexter! Ski and snowshoe along the Huron River and discover three Dexter area parks fit for all levels of experience. The B2B trail begins at Hudson Mills Metropark where you can explore six miles well-groomed trails and snow-glazed fields. Ski rentals are also available here! Heading south, discover Mill Creek Park within the city of Dexter before continuing south to the next stop, Dexter-Huron Metropark, providing gentle hills and stretched pathways to enjoy views of the river.   
Ice Fishing Favorites 
After gearing up with the right supplies, grab a buddy and head to one of the area's prominent ice fishing lakes! With a choice of popular fishing spots to visit, you'll have fun finding all kinds of fish to angle. Remember to check lake conditions before heading out onto the ice. Please note a fishing license is required and Michigan DNR regulations must be followed.  
Catch bluegill, yellow perch, rock bass, and more at Independence Lake County Park, located northwest of Ann Arbor. The lake is 192 acres in size and hits 34 feet at its deepest point. Prior to 2020, this park hosted the fun-filled annual Ice Fishing Derby, a family friendly fish-catching tournament and luncheon. This year, safely create your own fishing fun and see who can catch the biggest fish for a little friendly competition!   
Try casting at the 256-acre Fourmile Lake to catch northern pike, crappie, and panfish. This lake is found within the Chelsea State Game area. This popular ice fishing destination is part of the Huron River Watershed.  
For your next ice-fishing experience, head to Cavanaugh Lake to catch Smallmouth and largemouth bass, panfish, and giant pike in this 113-acre lake with a depth of 20 feet. Ice fishing is one of Cavanaugh Lake's most popular winter activities! Along with keeping groomed trails for snowshoeing and cross-country skiing, find your next outdoor winter adventure here.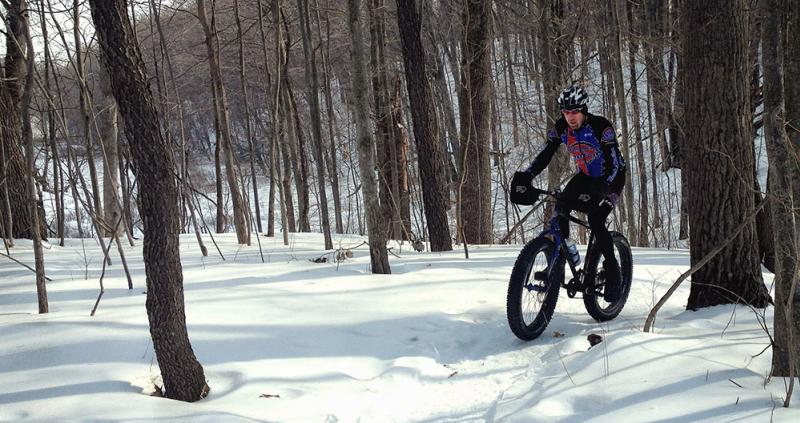 Fat Tire Biking  
Originally designed in part for winter trail biking, fat tire bikes are versatile and ideal for any terrain and works especially well in the snow. The wide tires and bicycle frame allow a smoother ride when approaching unseen obstacles and rough terrain. Ski goggles and proper winter biking shoes are recommended.  
Ready to ride? Find your next fat tire bike and all biking accessories at Wheels in Motion, a premiere bike shop family owned and operated in Ann Arbor for over 85 years. Once you're set up, head to the popular mountain and fat tire biking trail favorite, the DTE Energy Foundation Trail located within the Waterloo Recreation Area in Chelsea, the largest state park in Michigan's Lower Peninsula and notoriously known for its miles of biking trails and distinct loops that will keep you entertained for hours!  
Popular for fat tire biking is the Border-to-Border Trail. In Ann Arbor, the trail picks up at the Barton Nature Area and ends in Ypsilanti, providing miles of trail to travel! There are several starting points along the pathway for easy parking access, and passes through parks and locations including Fuller Park and Gallup Park in Ann Arbor, along with Eastern Michigan University in Ypsilanti and many more.  
For a flat and leisurely ride, visit Hewens Creek Park providing a handful of trail loops with quick turns that will require endurance! Once you've completed the Hewens Creek loops, access even more biking trails nearby with a connecting trail just ¼ mile down the road at Rolling Hills County Park for more biking excitement.  
 
Disc Golfing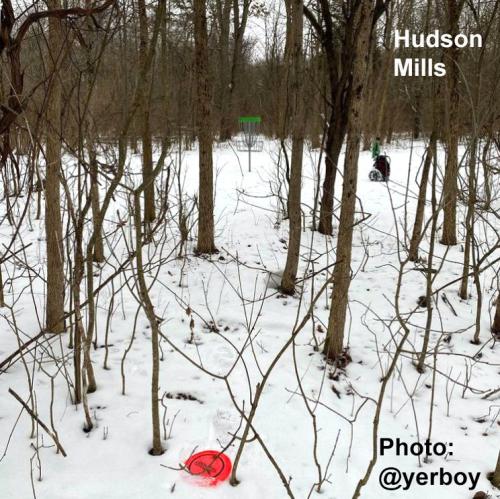 Disc golfing is a year-round sport with plenty of courses all around the area for every skill level. Play some of Michigan's top-rated courses with challenging pro shots that will put your throws to the test, or visit parks providing baskets to throw to just for fun. See where your next disc golfing adventure will take you!
Play the practice course at Rolling Hills County Park to sharpen your skills, then move on to the 18-hole course and put those skills to the test. Ready for more? Play the two top-rated 24-hole courses at Hudson Mills Metropark with challenging obstacles and wooded areas. Independence Lake County Park has made recent improvements to the popular Red Hawk course featuring 36 holes with new challenges and obstacles at each hole. This course is known as a local favorite among disc golfers.  These ultimate disc golfing locations are popular for many winter activities, so be sure to check out what else you can do after playing!
Play two 9-hole courses for fun when visiting Saline, located south of Ann Arbor. One course can be found at Woolley Park, a short and flat beginner's course with open spaces and no obstacles. The other course is located at Tefft Park with five baskets spread around the park with no specific course.   
Feeling up for a challenge? Try throwing at the Sandra Richardson Park course in Milan, a difficult 9-hole course with tight tunnels and several big fields with endless trees. This course has undergone recent renovations and is ready to play. Visit Wilson Park nearby and practice throwing and practicing at the newly installed baskets. 
Within the city of Ann Arbor are two disc golf courses. The Bandemer Park course is a 9-hole with three tee pads at each hole to maximize or minimize distance. Close by, find Mary Beth Doyle Park to play this 18-hole course with a mix of short, beginner-oriented holes and a few challenging shots with some obstacles.   
 

Warm Up With a Hot Beverage 
Take a break from your outdoor adventure and warm up with a fresh hot coffee or hot cocoa from Ann Arbor area cafes and coffee shops. Visit Zingerman's Coffee Company for flavorful classic or specialty brews and tasty espresso drinks. The Songbird Café is serving up an extensive list hot drinks fit for the whole family. Choose from flavorful lattes to the tangerine lavender hot cocoa! Heading downtown? Enjoy a hot cup of joe on the go from Comet Coffee found inside of Nickel's Arcade. 
 
When visiting the parks and hitting the trails in Dexter, be sure to make a stop at Joe and Rosie Coffee and Tea located on Main Street. Pick up some hot soup or sandwiches to refuel and toasty beverages to keep warm!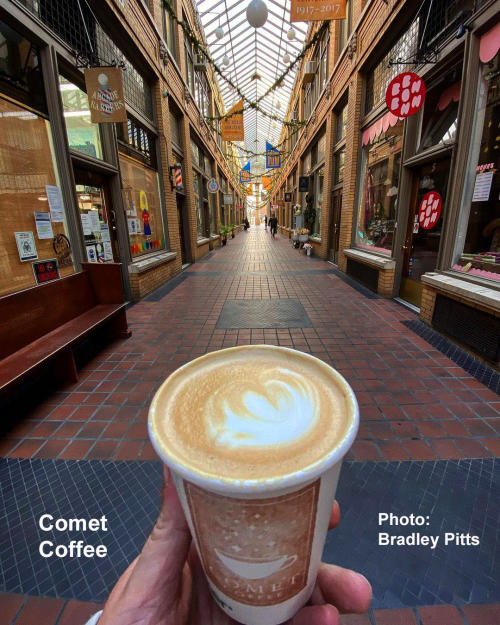 Serving Chelsea for over 20 years is ZouZou's Café. Help yourself to a quick bite with the grab-n-go breakfast and lunch selections. Zou Zou's offers hot non-coffee drinks like tea and steamers, as well as the coffee classics like Cappuccinos and Macchiatos. 
From carefully hand-crafted coffee to fresh soups made from scratch, Brewed Awakenings Café in Saline has just what you need to warm up! Grab a hot-pressed panini breakfast sandwich or one of their many specialty Espresso drinks like the Almond Joy or the Pumpkin Pie Espresso. With so many tasty flavors on their menu, you'll want to come back for more.
After exploring around Ypsilanti, try one of the area's craft coffee shops nearby. Located in Depot Town is Cultivate Coffee & TapHouse. Order the quick brew for a house drip coffee, or a classic Americano. Wanting something out of the ordinary? Try Cultivate's signature coffee lemonade, best served over ice but worth trying even during a chilly day!  
No matter how you choose to enjoy Winter this year, please remember to follow CDC guidelines on social distancing and best outdoor practices. 
Like our content? Get all of the latest Ann Arbor happening delivered right to your inbox. Subscribe to our monthly newsletter.